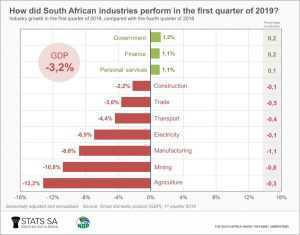 Our economy continues to stagnate, and one can only hope that President Ramaphosa's "new dawn" bears fruit sooner rather than later. Below are some key findings as released by Stats SA.
The manufacturing industry decreased by 8,8% in the first quarter. The divisions that made the largest contributions to the decrease were petroleum, chemical products, rubber and plastic products; motor vehicles, parts and accessories and other transport equipment; and wood and wood products, paper, publishing and printing.
The mining and quarrying industry decreased by 10,8% in the first quarter. This was largely the result of low production in mining of coal, mining of gold, mining of iron ore, mining of chrome ore and 'other' mining and quarrying (including diamonds).
The agriculture, forestry and fishing industry decreased by 13,2% in first quarter. The decrease was mainly because of a drop in the production of field crops and horticultural products.
The trades, catering and accommodation industry decreased by 3,6%. Decreased economic activity was reported in wholesale trade, retail trade and motor trade.
The transport, storage and communication industry decreased by 4,4%, as a result of decreases in both passenger and freight land transport.
Finance, real estate and business services increased by 1,1% in the first quarter. Increased economic activity was reported for financial intermediation, real estate activities and business services.
General government services increased by 1,2%, mainly attributed to an increase in employment.