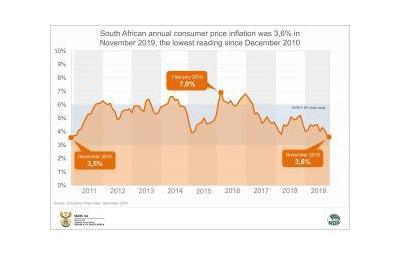 A recent report from STATSA states that annual inflation eased further in November, falling to 3,6% from October's 3,7%. This is the third successive month of disinflation, which means that the pace of price increases is slowing down.
November's reading is the lowest since December 2010 when the rate was 3,5%. The highest rate recorded since December 2010 was 7,0% in February 2016. Since the end of 2016 inflation has been on a downward trend and has remained firmly within the South African Reserve Bank's 3%–6% monetary policy range since April 2017.
Housing and utilities, miscellaneous goods and services, and food and non-alcoholic beverages were the biggest contributors to the 3,6% increase in November 2019.
Food and non-alcoholic beverages' inflation was 3,5%, slightly lower than the 3,6% recorded in October. Bread and cereal prices continue to climb, however, recording an annual rate of 8,0%. Fish prices increased by 7,6% and meat was on average 1,8% more expensive than it was a year ago.
If you are a wine drinker, you would have paid 8,7% more for a bottle in November than you would have in the same month last year. Beer prices have risen by 2,8% over the same period.
The transport category moved into deflationary territory in November, showing an average annual price decrease of 0,3%. Annual deflation means that overall prices were lower in November than they were in the same month last year. A drop in the price of inland 95-octane petrol by 13c per litre between October and November contributed to this decrease, bringing the annual decline for the year to R1. The last time the transport category was in annual deflation was October 2015, when the price of 95-octane petrol dropped by R1 over a 12-month period.