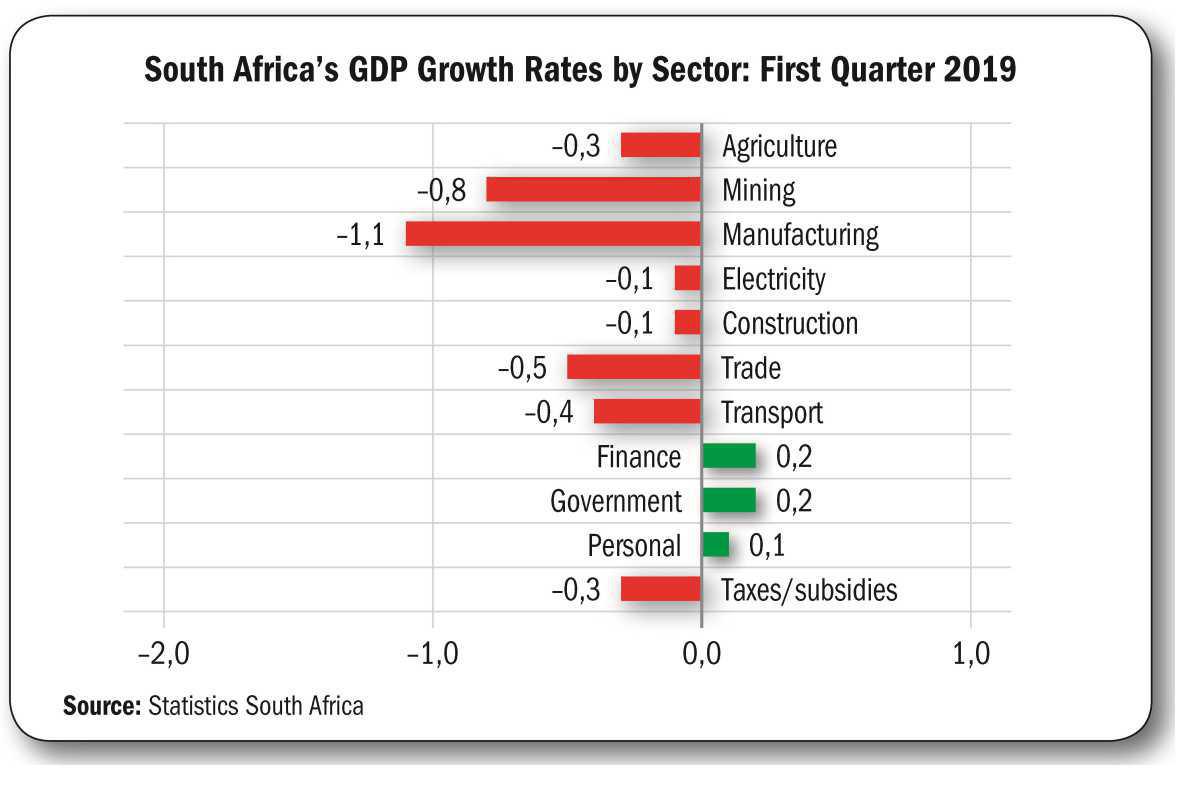 News channels throughout South Africa are bombarding us daily with negative news on the South African economy. While it is pretty much a global issue, our situation is compounded by the ravages of state capture and the abuse of taxpayer's money. From a global perspective, South Africa is the 67th most competitive nation in the world out of 140 countries ranked in the 2018 edition of the Global Competitiveness Report published by the World Economic Forum. Competitiveness Rank in South Africa averaged 51 from 2007 until 2018, reaching an all-time high of 67 in 2018 and a record low of 35 in 2007.
A snapshot of the economy:
GDP: 366.3 billion US dollars (2018)
GDP Growth Rate: – 3.2% q/q (Q1-2019)
PPI: + 5.8 % (y/y June 2019)
CPI: 4.5% (y/y June 2019)
Unemployment: 29% q/q (Q1-2019)
Key industries: Mining (world's largest producer of platinum and chromium), automobile assembly, metal-working, machinery, textiles, iron, steel, chemicals, fertilizers, foodstuffs, commercial ship repair.
Exports: Gold, minerals, diamonds, platinum, other metals and metal products, foods, automotive components, machinery.
Imports: Machinery (including computers), transport equipment, manufactured goods, chemicals, mineral fuels including oil, scientific instruments, medical apparatus, pharmaceuticals.
Main trading partners:: Germany, USA, UK, China, Japan, France, Botswana and Namibia.
Against this negative backdrop, Government has now tabled the NHI Bill which will effectively put a further R450 billion of cash flows under its control. Unless there is a miraculous turnaround, the NHI will be a disaster for us. If you are a business owner, it's time to start sweating your assets and looking for additional sources of revenue.
If you would like to consult on how to best take your business forward please do not hesitate to contact us for professional advice.